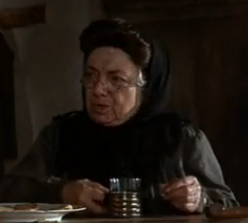 &nbsp
Yente (pronounced 'jen.tə, YEHN-tah, Molly Picon-see below) is Anatevka's matchmaker. Her only song is Anatevka, but Matchmaker, Matchmaker is about her-but sung by Tevye's daughters. She is a gossip, and one thing that shows this is that, when Hodel sent a letter to Tzeitel, Yente recieved the letter and read it before giving it to Tzeitel. When Tzeitel realized it was open, she inquired, but Yente just replied with "So it happened to be opened," and just walked away. Yente currently resides in Israel.
Molly Picon
Edit
Molly Picon was born in Feb. 28, 1898 in New York, USA as Malka Opiekun. Her parents were Clara Ostrow, a wardrobe mistress, and Louis Opiekun, a shirtmaker. At six, she started Yiddish theater, but when it died down, she performed in English. She wrote two books: So Laugh A Little and Molly.
Ad blocker interference detected!
Wikia is a free-to-use site that makes money from advertising. We have a modified experience for viewers using ad blockers

Wikia is not accessible if you've made further modifications. Remove the custom ad blocker rule(s) and the page will load as expected.