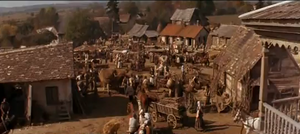 Anatevka (Ukrainian: Aнатевка anatevka, Yiddish: אנאטעווקא anatewka) is the fictional Ukrainian shtetl that Fiddler on the Roof is set in. It is a small Jewish village, but everyone knows each other. One of the most beloved residents is the Rabbi (Zvee Scooler), but other residents are Yente the Matchmaker, Nachum the Beggar (Howard Goorney), and Tevye's family. There is also an Orthodox Christian section of the village.
Ad blocker interference detected!
Wikia is a free-to-use site that makes money from advertising. We have a modified experience for viewers using ad blockers

Wikia is not accessible if you've made further modifications. Remove the custom ad blocker rule(s) and the page will load as expected.